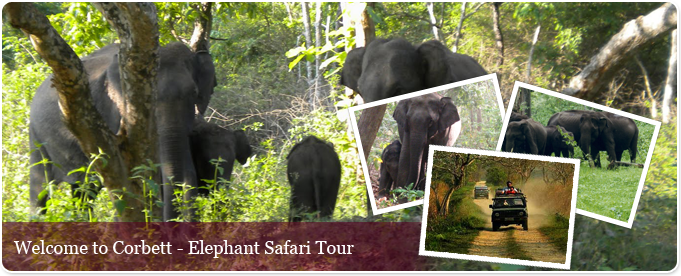 Corbett - Elephant Safari Tour
Duration: 03 Nights/ 04 Days
Places Covered: Delhi - Corbett National Park - Dhikala - Delhi

Day 01:

Delhi - Corbett
The tour will start from Delhi. From the national capital, you can either catch the flight or take the train. The train, Ranikhet Express leaves Delhi around 10 p.m. and reaches Ramnagar at 5 a.m. If travelling by air, board the flight to reach Pantnagar Airport. This is the nearest airport to Corbett. From there, you will be taken on a 50 Km drive to the Park.
On your arrival at the Corbett, you will be made to check-in at hotel. Post lunch, you will enjoy the expanse of the resort. Take the evening Jeep Safari to the Bijrani area of Corbett. This is where you can spot the Tigers. Apart from this thrill, you can enjoy the varied topography, diverse Flora & Fauna, the beauty of the rivulets, the perfectly natural landscapes, and the prized heritage of the park. By late evening, you can be back at the resort. Enjoy your dinner and the overnight stay will be at the resort.







Day 02:

Corbett
Day 02 will be a full-day-elephant-safari day! You will start from Durga Devi gate of Corbett Tiger Reserve. On the way, you will come across beautiful sceneries of the Himalayan foothills, the lush Tropical forests and the bountiful Flora & fauna. In between the ride, swap your seat with the Mahout and get the feel of riding an Elephant. You will also get to see a lot about the bird life in the lower altitude regions. The journey will continue along the Ramganga River. After a short break for the packed lunch, the Elephant Safari will continue. You will then arrive at a lodge near the river. Here, you can get refreshed and take rest. Have dinner sitting around the camp fire listening to the forest sounds. Overnight stay will be at the lodge.







Day 03:

Corbett
In the morning, after breakfast, enjoy the Jeep drive to watch a tower situated overlooking the River. The watchtower would prove haven for the avid birdwatchers. After having a sumptuous lunch, you will embark on a Jeep safari through the jungle track along the Ramganga River. You may also get the chance to spot tigers in their natural habitat. The Khinanauli range offers an exciting view of the wildlife. The safari will continue to the Sal Forest. Later in the evening, arrive at the hotel. Overnight stay will be at the hotel.







Day 04:

Corbett National Park- Delhi
This will be the last day of the tour. After breakfast, you will be made to check-out of the hotel. Then you will be assisted to either take the train back to Delhi or to board the flight to reach Delhi.