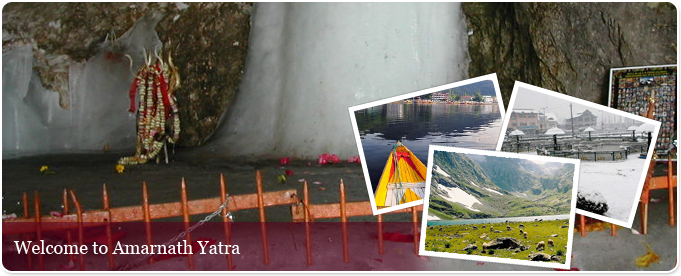 Amarnath Yatra
For all Hindu devotees, 'Amarnath Yatra' is one of the biggest and divine journeys. True disciples of Lord Shiva, wish to take a tour once in their lifetime to Amarnath. Situated at a height of 3,888m, in the beautiful state of Jammu and Kashmir, Amarnath cave is 150 ft high and 90 ft long. It is believed that in this cave Lord Shiva chose to disclose the secret of immortality to his Goddess wife Parvati. Being a very sanctified and antique place of India, a large numbers of people visit Amarnath every year. The route to Amarnath is open only during the month of sharavan, i.e. July and August. However, the dates vary every year depending on the weather conditions and according to Purnima. For all the devotees of Shiva, we offer a tour package to this sacred land.


Duration: 04 Nights/ 05 Days
Places Covered: Srinagar - Baltal - Amarnath Cave

Day 01:

Arrival at Srinagar Airport- Baltal
Our esteemed guests will be received on their arrival in Srinagar. From there, you will drive to Baltal via Sonmarg. Baltal is located at a distance of 115 km. It would take more than three hours to reach there. In Baltal, guests would stay for overnight in tents or fabricated hut.







Day 02:

Baltal - Amarnath Cave
Next morning after breakfast, the tour will proceed to Amarnath cave. The cave is located at a distance of 25 km from Baltal on a high slope. After darshan, guests will return to Baltal for an overnight stay in the tents or fabricated hut.







Day 03:

Batal - Srinagar
On the third day of the tour, guests drive back to Srinagar via Sonmarg. En-route they can take a halt at Sonmarg for a lunch. After relaxing for a while, drive towards Srinagar and on route pay homage to the spiritual temple of Mata Khir Bhawani. On reaching Srinagar, guests can check into the hotel for overnight stay.







Day 04:

Srinagar
The next day after having breakfast, you will explore Srinagar. The sightseeing will include Mughal Garden and Shankaria Charya Temple. During afternoon, the guests can take a splendid boat ride in Dal Lake and visit floating gardens and vegetable gardens. For overnight, guests will stay in a deluxe houseboat.







Day 05:

End of the tour
On the 5th day, tour will end. After having breakfast, guests will be driven to Srinagar Airport/railway station, from where they can board a flight/train back to their respective countries and cities.