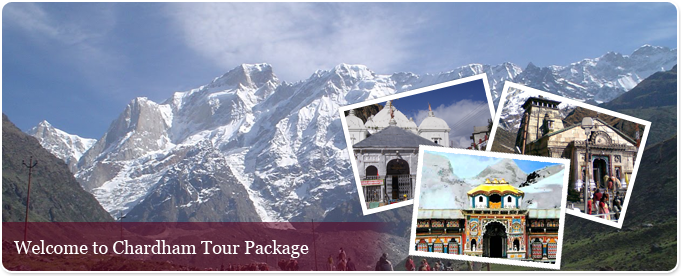 Chardham Yatra Tour Package
Duration: 11 Nights/ 12 Days
Places Covered: Delhi - Rishikesh - Barkot - Yamunotri - Uttarkashi - Gangotri - Kedarnath - Pipalkoti - Srinagar - Haridwar - Delhi

Day 01:

Delhi - Rishikesh (230 kms/6hrs)
Drive from Delhi to Rishikesh. Continue your drive and upon arrival check in at the hotel. In evening witness Ganga Aarti at Parmarth Niketan. Overnight stay will be at the hotel.







Day 02:

Rishikesh - Barkot (200 kms/7hr)
After breakfast, proceed for a city tour of Rishikesh. Visit Laxman Jhulla, local bazaars. Drive to Barkot via Mussoorie visiting Kempty Falls. Continue your drive and upon arrival in Barkot check in at the hotel.







Day 03:

Barkot - Yamunotri - Barkot - 36kms drive & 7kms Trek (one side)
Morning drive to Janki chatti and start trek to Yamunotri. (You have an option to either walk or on horseback or by Doli at own cost.
Arrive at Yamunotri: One can cook rice by packing it in a cloth and dipping it in the hot water of the hot kund. Pilgrims take this cooked rice home as "Prasad". Here near the temple "Pooja" can be offered to Divya Shila. After taking bath in Jamunabai Kund's warm water and having "Darshan" of pious "Yamunaji" returning to Janki Chatti. Overnight stay will be at Hotel.
Hanuman Chatti: The confluence of Hanuman Ganga & Yamuna River.
Yamunotri Temple: Maharani Gularia of Jaipur built the temple in the 19th Century. It was destroyed twice in the present century and rebuilt again.
Surya Kund: There are a Number of thermal springs in the vicinity of the temple, which flows into numerous pools. The most important of these is Surya Kund.
Divya Shila: A rock pillar, worshipped before entering the Yamunotri Temple.







Day 04:

Barkot - Uttarkashi (100kms/4hr)
In morning, drive to Uttarkashi. In the afternoon proceed for sightseeing tour of Uttarkashi visiting Vishwanath Temple. Overnight stay will be at the hotel.
Uttarkashi: Situated at the bank of river Bhagirathi. The temple of Lord Vishwanath is located here where a massive iron trident is erected. The other important temples situated here are Ekadash Rudra, Bhairav, Gyaneshwar and Goddess Kuteti Devi.







Day 05:

Uttarkashi - Gangotri - Uttarkashi (100kms/3hr each side)
We proceed to Gangotri (3048 mts), enroute we enjoy picturesque Harsil village, Bhagirathi River and the most magnificent view of the Himalayas. After Gangotri Darshan, we return to Uttarkashi. Overnight stay will be at Uttarkashi.
Gangotri Temple: The temple, constructed by the Gorkha General Amar Singh Thapa in the 18th Century, is situated on the right bank of Bhagirathi.
Submerged Shivling: Submerged in the river, this natural rock Shivling is the place where, according to mythology Lord Shiva sat when he received the Ganga in his matted lock. It is visible in winter months when water level decreases.
Kedar Ganga Sangam: Around 100 Yards from the Ganga Temple flows the river Kedar Ganga. Starting from the Kedar Valle, this river meets the Bhagirathi on its left bank.







Day 06:

Uttarkashi - Guptkashi / Rampur( 210 kms/7hr)
In the early morning, drive to Guptkashi. Check in Hotel for night halt.







Day 07:

Guptkashi / Rampur - Kedarnath (45kms by road & 14kms Trek)
In the morning, drive to Gaurikund. The trek starts from Gaurikund to Kedarnath (3584 mts) on foot or on by pony / Doli. Visitors are requested carry personal medicines, heavy woolen, toiletries and clothes for an overnight halt at Kedarnath. Later visit Kedarnath Temple. Night halt will be at Kedarnath.
Gaurikund: At a distance of 5kms from Sonprayag and at an altitude of 1982 meters., one can take bath in the hot water pond here and visit the Gauri Temple. This is the place where Goddess Parvathi meditated to attain Lord Shiva. It is the base for a trek to Kedarnath.
Kedarnath: The Kedarnath shrine, one of the 12 jyotirlingas of Lord Shiva, is a scenic spot situated, against the backdrop of the majestic Kedarnath range. Kedar is another name of Lord Shiva, the protector and the destroyer.







Day 08:

Kedarnath - Pipalkoti (14Kms Down Trek & 158 kms/ 5hr by Road)
Early morning, after Temple Darshan trek down to Gaurikund. Later, drive to Pipalkoti. Check in Hotel at Pipalkoti for overnight stay.







Day 09:

Pipalkoti - Badrinath (77 kms /3hr)
Drive to Badrinath via Joshimath. Check in Hotel. Later at evening visit Badrinath Temple for Aarti. Overnight stay will be at the hotel.







Day 10:

Badrinath - Srinagar (7hr)
Early morning, pilgrims after having a bath in the Taptkund have the Darshan of Badrivishal. Brahamakapal is significant for Pinddan Shraddh of ancestors (Pitrus). There are other interesting sightseeing spots like Mana, Vyas Gufa, Maatamoorti, Charanpaduka, Bhimkund and the "Mukh" of the Saraswati River. Just within the three kms of Badrinathjee. Later continue your drive to Srinagar. Check in Hotel. Overnight stay at the hotel.







Day 11:

Srinagar - Haridwar ( 156 Kms )
After breakfast drive to Haridwar. Upon arrival, check in at the hotel. Visit Har-ki-Pauri for Ganga Aarti in evening.







Day 12:

Haridwar - Delhi
This will be the last day of the tour. On this day, you will drive back to New Delhi from Haridwar.